Tartufi

One of the highlights in Italy were abundant black tartufi that we sampled almost every other day in meals such as pasta, risotto and scrambled eggs. Local grocers sold an array of merchandise ranging from truffle infused cheese, spreads and meats to truffle-flecked pasta and bread. There were even bitters made from tartufi called "Amaro al Tartufo". As a nod to my husband who is besotted with everything fungi, we drove through the Crete Senesi region, where we visited the sleepy town of San Giovanni d'Asso to visit the 'Museo Del Tartufo'. It was unfortunately closed for the afternoon siesta, and the one lonely person we met in the village (who presumably was heading for his siesta), couldn't tell us if and when the museum would open again for visitors.

Strolling through Gubbio, we chanced upon Anna's store which was a treasure trove of artisanal foods devoted to truffles. Since our Italian was next to nothing, next door entrepreneur Kim helped with the translation during our conversation. Soon, we were better informed on the vagaries of the truffle, and slightly poorer as well after making some dear purchases at the store!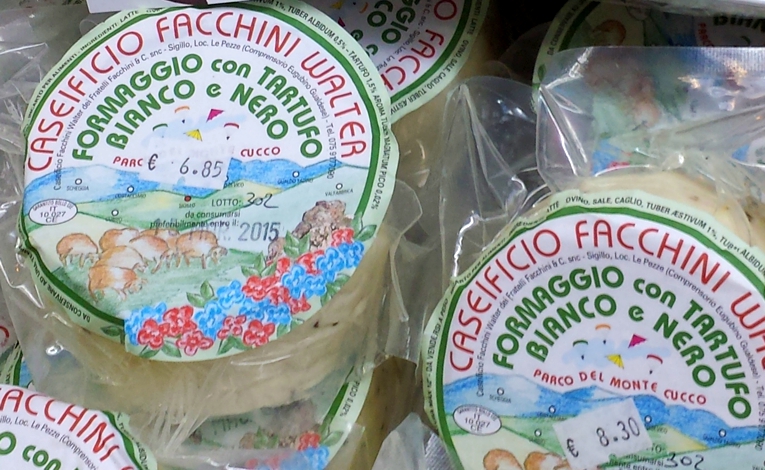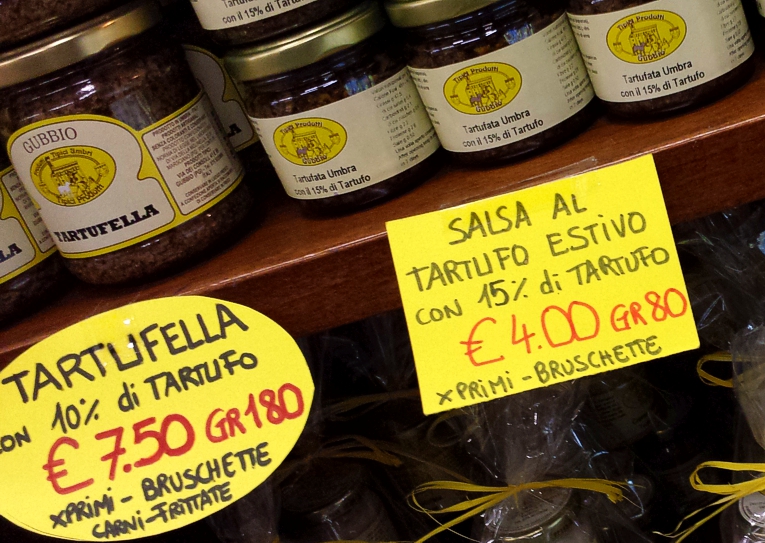 Just thought I'd mention in passing that while in the Umbrian town of Gubbio, the 'crescia' was a regional offering that we tasted at a local restaurant. It's an unleavened flatbread made of flour, eggs, lard and water, and stuffed with meats and cheese, or vegetables.
Travelling south from Gubbio, we scouted down a supplier of tartufi – Antonio Fortunati in picturesque Trevi, Perugia, who also breeds and trains dogs to find truffles. Every season, a pack of trained dogs are 'rented' to truffle growers to seek out this black gold, it's big business as we all know.